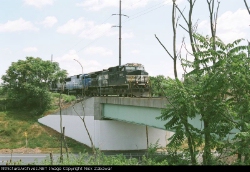 Welcome to the RRPictureArchives.NET contributor site of Nick Zabawar.



Welcome to my page. I have photos from mostly Connecticut and Rhode Island. Unfortunately I can't always recall the dates, so approximations are used. I take my camera everywhere I go, so you never know what I'll run into. Trains, abandoned railroads, anything railroad related I'm interested in. Thanks for looking.

I'm working on some new ones, and I have come to the conclusion that my scanner stinks, so I have to work on that.

Nick



You may browse my collection of pictures via the menu located on the left hand side of the page. I hope you enjoy the collection and thanks for stopping by!
Note: This site is best viewed in Internet Explorer 6.0 or above.
Select one of the links from the menu on the left to begin browsing the collection.